It was the biggest monthly rise in the cost of household items in more than two years, the Office for National Statistics (ONS) said.
Rising prices for clothing, hotel stays and motor fuel led to the rise in the Consumer Prices Index (CPI).
However, the ONS said there was "no explicit evidence" the lower pound was increasing prices of everyday goods.
Most of the rise in inflation was due to the biggest monthly jump in clothing prices since 2010 and a rise in fuel costs, which had been falling a year earlier.
The rise in the inflation rate from 0.6% to 1.0% was the biggest month-on-month jump since June 2014.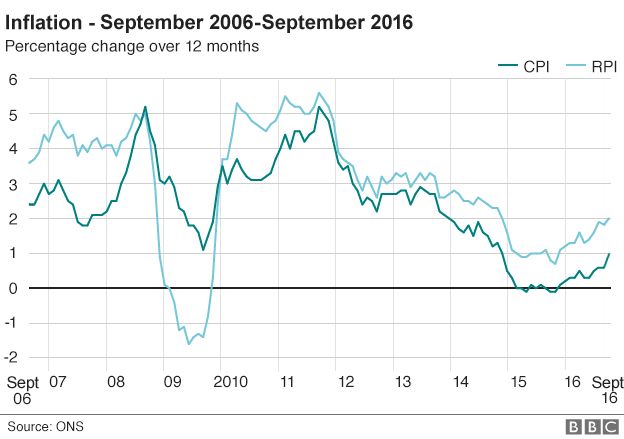 The 1% rate is the highest since November 2014. However, ONS head of inflation Mike Prestwood said it was "low by historic standards".
'Certain to rise'
Economists have predicted that prices will rise further, particularly when the fall in the pound makes food and clothing more expensive.
Howard Archer, chief economist at IHS Global Insight, said: "Consumer price inflation was actually prevented from climbing higher still in September by a dip in food prices, but that looks certain to imminently come to an abrupt end and turn around as a factor."
Others said the UK was on course to exceed the Bank of England's target of a 2% inflation rate next year.
Ben Brettell, senior economist at Hargreaves Lansdown, said: "Inflation looks certain to rise further over the coming months, and could easily exceed the 2% target in 2017.
"This will undoubtedly be tough on those with low incomes, and it's also not good news for savers who are losing money in real terms."
The Retail Prices Index (RPI) measure of inflation, which includes mortgage interest payments, rose to 2.0% in September from 1.8% in August.